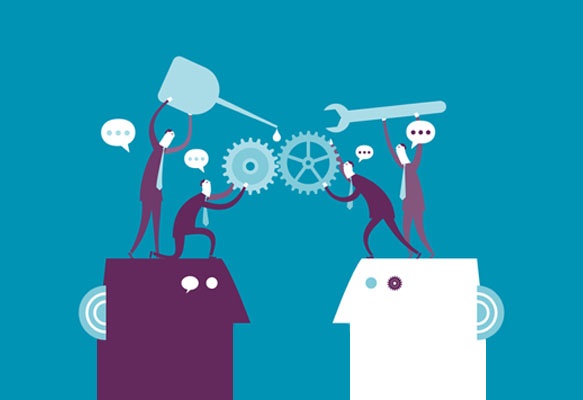 There are so many technological options for businesses and independent consumers alike, and it can be tough to navigate all of the sales and product pitches. You may even be overwhelmed enough to get stuck when deciding what you need. If so, you are not alone. Many business owners and executives just want to know what will get them the best return on their technological investments. We would like to introduce our three-part series about technologies that will help your company succeed in business.
First, collaboration is important for any business. Most managers and executives have noticed that companies run better and get more done when their employees feel they can collaborate on important projects and in their general work tasks. Even the most solitary workers can do wonders when given the tools to effectively communicate and work well with their peers. That is why so many products are available that can help your employees achieve this.
One collaboration tool that we love is Microsoft SharePoint. This product offers a ton of great features for businesses of all types and sizes. While there is a lot to be said about how this tool can help your staff to better collaborate, here are a few main points:
It is highly customizable.


SharePoint offers what is basically a blank page for you to design and use to your business's needs. You can post project updates, create a web part for company news, maintain contact lists, and keep a document library, all in one place. The possibilities are endless, and your business can take advantage of templates that will make sense for what you need considering your goals for employee collaboration.

It is very user-friendly.


Staff members that are not tech-savvy can be taught to edit, maintain, and upload to parts of SharePoint. This way, even your employees that would not normally know how to edit a website or add to discussion boards and group calendars can collaborate with those that do. SharePoint acts as a living document that members of a team can constantly add to, making it a great choice for any business.

User access creates desired boundaries so that the whole company can get on board.

While you probably want everyone in your organization to be able to collaborate with the same tools, not every employee should be able to access projects from all departments, such as accounting or customer service. Each department can maintain their portion of the site for internal communication and sharing, while still leaving some areas that are accessible to all employees for internal documents and company-wide communication. Also, permissions can be set so that people outside of the organization can access limited parts of the site.
SharePoint basically operates as a shared drive, but can be accessed more easily and can serve many different functions. Users access the company's SharePoint site from the internet rather than the company network, and it goes above and beyond simple file-sharing. Collaborating is easier with SharePoint's document libraries, task lists, announcements, and user editing.
Are you interested in learning more about what SharePoint can do for your business? Give us a call and we would be happy to discuss your business goals and how SharePoint can help! Also, don't forget to stay tuned for more in our series about technologies your business needs to be more successfull.