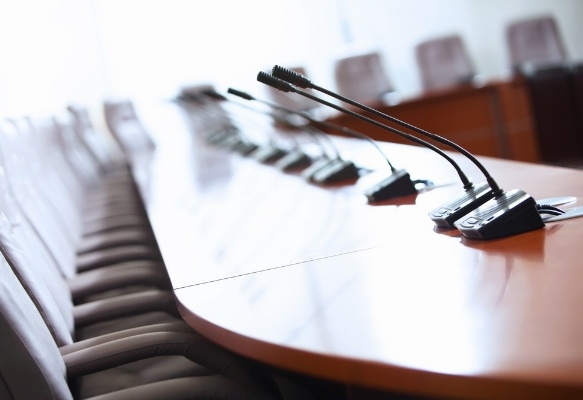 Presentation is key when it comes to leaving a lasting impression, good or bad. If you are hosting a conference or conducting a meeting and your audio visual equipment is sub par or you have a major technical difficulty, you risk your company's reputation for all attendees. In order to leave a good impression, we've put together four audio visual tips for conference rooms.
Visuals
While this may be an obvious one, it is important to know that the visual aspect of your presentation should be based on multiple variables. Not only is it important to have visuals during your conference, but the amount of screens and projectors should be based on the size of the room as well as the number of attendees listening. If you are speaking at a conference with 100+ people, you will want visuals that can be seen from the back of the audience. If you are at a 10-person executive meeting, the visuals will not need to be as elaborate and one screen will suffice.
Automation
In order to improve efficiency during your presentation, allow for smooth transitions, and impress your audience, you should incorporate automated features into your conference room. Aspects such as lighting, power, and shading can be comprehensively controlled from a single interface. In addition, room automation can improve your electricity bill by taking advantage of natural light to avoid high lighting costs.
Go Wireless
Not only does a wireless presentation look cleaner, it reduces the possibility of tripping and/or tangling. Wireless microphones also make it easier for the presenter to walk around the stage/room which enables a better connection with the audience. Your conference room should also be equipped with WiFi for attendees and employees to be able to log in. This makes it easy for employees to send documents back and forth during a presentation if need be.
Hire a Professional
If you want your conference to run as smoothly as possible, we recommend hiring an audio visual technician to help with set-up so that the chances of technical difficulties are minimized. You should also have a technician present in case of any malfunctions or last minute changes. While you can prepare in great detail, it is better to play it safe when trying to foresee possible problems.
Taking these four audio visual tips into account will not only benefit your conference quality, but your business as a whole. Presentation is important when clients are left with a certain impression of your company. If you have any questions regarding presentation systems or would like a CPI representative to work with you on developing a custom conference room or upgrading your current presentation room, feel free to contact us here.