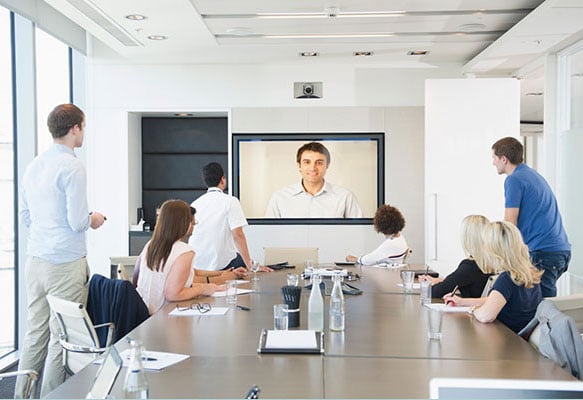 It's presentation day! Your prospects walk into the office and you feel ready to give them the demonstration that will sell them on your work. They walk into your conference room and sit down, you pull out your notes and begin speaking, and as you look around you notice everyone is already bored. You've started off on the wrong foot with a less-than-stellar exhibition.
Let's consider an alternate scenario. You're ready, in walks your potential clients, and your room is welcoming. With the touch of a few buttons your screens lower, the lights dim, speakers power on, and a video featuring your company appears on the screen. Already, you can see that the people in the room are engaged and prepared to learn about your business and how you can help them grow theirs. This is the power of room automation.
How exactly does room automation work, though? Think of having a universal remote that connects the technologies in your conference room. A control system integrates with each part of your room and settings for each type of meeting will execute functions in your room to get that meeting started.
For example, if you are ready to give a presentation, simply use your control (typically an iPad or other tablet) to choose the presentation setting. If your conference room has windows to the outside, you can even prompt the shades to lower in order to remove the glare on your screens. Once your presentation is over, easily select the meeting setting for a Q and A session. The lights return to normal levels, projectors power off, and screens and shades retract. The focus is suddenly on your guests and questions they may have regarding your presentation.
Room automation is not just for sales presentations, either. With an effective room automation control system, you can dial a number from your control tablet and begin a conference call without the need for a phone to sit in the middle of the table. You can also use your room for busy executive meetings – an automated room can help streamline the process of pulling up presentations and holding conference calls. Bypass inefficient technologies that prevent you from connecting both your presentation audio and video, wasting valuable time.
With the power of room automation, the possibilities are endless for your business. Not only is it better looking, but it can truly help improve meeting and productivity and wow your audience. If you're considering an automated conference room, contact us. We have installed over 30 fully automated conference rooms in the past year alone for all types of businesses just like yours.