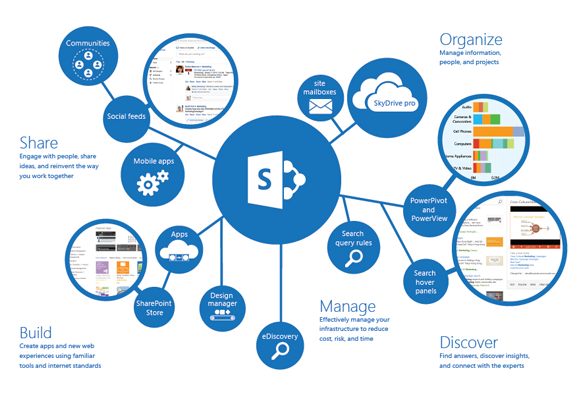 Do you know how to use SharePoint? When learning something new, it is essential to get a firm grasp of the fundamentals so you can build up your understanding and technical skills. Below, we take a look at the fundamental concepts that make Microsoft SharePoint what it is today.
SharePoint is built on moderately simple concepts that allow organizations to construct impressive solutions for a wide variety of business troubles. Understanding the use of SharePoint will help you exponentially as you continue to develop your skills.
What is SharePoint?
SharePoint is Microsoft's browser-based content management system that allows a central, protected space for document sharing and partnership. Many companies use SharePoint to build intranets as well as store, organize and share information in one central location.
SharePoint is flexible and can be used in a variety of ways. It is a document storage site, but also a collaboration tool. It is a place to run daily workflows and processes and also a place for company-wide communication. SharePoint should not be viewed as a single tool, but rather a platform that enables many diverse workplace activities.
How to Use SharePoint
Send Announcements
SharePoint announcement list is an extraordinary type of list which lets you create an announcement with an expiry date. To present the announcements to the staff of an organization you can place the announcement list on the landing page of your intranet.
SharePoint for Survey
Internal communications often need to be two way in order to share information with employees. It is also essential to receive input. As with the discussion board, a SharePoint survey can easily be created to gather data.
Intranet
There are many ways to use SharePoint, but using it for your organization's intranet portal is at the top of the list. One reason for this is SharePoint's customizability and confidentiality. SharePoint Online allows remote access to all internal sites, documents, etc.
Content Management and Collaboration
In addition to an intranet solution that is used to distribute information and make resources available to employees, your organization also needs a central content management system (CMS) where users can communicate and collaborate.
Business Intelligence
Through its deep integration with Microsoft Office and Office Web Apps, Excel, and Access Services, SQL Server connectivity, and the ability to define connections to other external data sources, SharePoint can easily become a hub for fast and efficient business analysis.
Understanding how to use SharePoint is important whether you're setting it up on premise environment, going to the cloud, or mixing the best of both worlds in a hybrid scenario. Don't get lost in the SharePoint jungle! Make use of SharePoint to alleviate fears since it will help you on not only to survive but to thrive in your business.