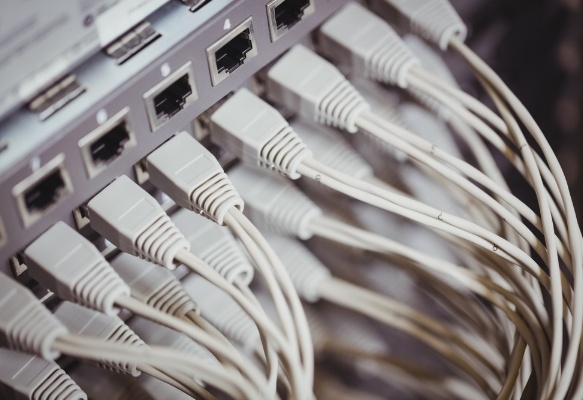 Los Angeles Network Cabling can be tricky, time consuming, and expensive… but it doesn't have to be. We've put together a success strategy for your network cabling project to mitigate expense, risk and best prepare you for your upcoming installation.
Step 1: Planning
Before you begin the process of implementing a new data center or installing new cables, you should have a plan in place. The first step in any successful project is creating a plan that includes a clear timeline and budget. Be prepared to incur various expenses including: labor, equipment and hardware. Make sure you don't make any of these network cabling mistakes, especially during the planning process.
Step 2: Placing
When designing and setting up your data center, consider the placement of your server racks in correlation with cabling needs. Strategically lay out your data center so that running cables where needed won't be an issue. Click here for more information regarding design and set-up.
Step 3: Color Coding
As your company grows, your data center will expand as well. The amount of cables will continually increase and you will want to sustain as much organization as possible. Color coding your cables will not only add a level of aesthetic appeal, but will also allow easy identification for cables that serve a different purpose.
Step 4: Labeling
This easy step is often overlooked and can lead to hours of time spent trying to identify or test cables. By simply labeling each end of your cable from the beginning, you are not only increasing the organization of your data center, but also making it easier to identify each cable in the future. This step goes a long way and we highly recommend labeling cables no matter how long or how short.
Step 5: Measuring
While you may be tempted to leave some slack in your cables in case of expansion, but this can cause consequences in the future. Not only are you wasting money due to excess cable length, but you are leaving room for tangled cables. Let's face it, nobody wants to deal with tangled cables.
Step 6: Testing
After you've set up your network, make sure you test your cables for both qualification and verification. Qualification tests whether or not a cable can support network speed as well as any existing technology you may have. Verification tests whether or not your cables are connected correctly.
Step 7: Partnering
To reduce time and resources that may be spent trying to complete this process alone, partner with a trusted network cabling company to ensure that you are optimizing the process. The right network cabling partner will provide you with certified and licensed engineers that can provide expert advice and work alongside you to implement your project.
With this Los Angeles Network Cabling Success Strategy, you should be well on your way to executing your next cabling project. If you have any more questions or would like to consult with a network cabling specialist, feel free to call us at (888) 640-9955 or have a CPI representative contact you.